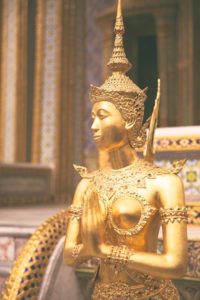 Reiki is much more than a simple healing technique. It's a path of self-discovery, a passage to a state of balance and harmony. Among the many branches of Reiki, Usui Reiki, named after its founder Mikao Usui, remains one of the most authentic and respected. If you feel the inner call to healing and personal growth, read on and discover why Usui Reiki training could be just what you need.
Usui Reiki, often referred to as traditional Reiki, is an ancient Japanese method of energy healing that focuses on the transfer of universal energy through the hands of the practitioner to the receiver. This energy is designed to restore and balance the body's natural energy flow, promoting physical, mental and emotional healing.
Holistic healing
Reiki does not isolate one part of the body or mind, but considers the individual as a whole.
Many people report a feeling of peace and relaxation after a session.
Beyond healing, Reiki is a powerful tool for spiritual growth and self-knowledge.

No contraindications
It is a non-invasive therapy that can be used to complement other forms of medical or therapeutic treatment.
Why take a Reiki Usui course?
Transmitting healing
Learning to channel and transmit this universal energy to help others is a precious gift.
Personal development
Reiki training is often the beginning of an inner journey, offering new perspectives on ourselves and the world around us.
Belonging to a community
The world of Reiki is rich in caring and compassionate individuals. By taking a training course, you join a fraternity of like-minded souls.
Training recognized by the ASCA Foundation
Complete training to become a therapist and continuing education for ASCA therapists
Frequently asked questions about a Reiki Usui treatment or session
What are you waiting for to dive into the world of Reiki Usui?
Whether you're looking for a new career, a way to complement your current skills or simply a path to a better understanding of yourself, Usui Reiki has something to offer. With dedicated masters and proven techniques, it's a path that has transformed the lives of millions of people around the world.
To find out more, don't hesitate to
contact
us!