DeepL is a site that automatically translates text into several languages… but much more professional (among other things) than Google Translation.
When you have text to translate (website or document), simply select it, copy it and paste it on the service page. The service automatically recognizes the language* of the text and by default translates it into the language of your system.
You can change the translation language at any time, as well as some of the words or phrases translated. These corrections are kept in order to improve the quality of the service.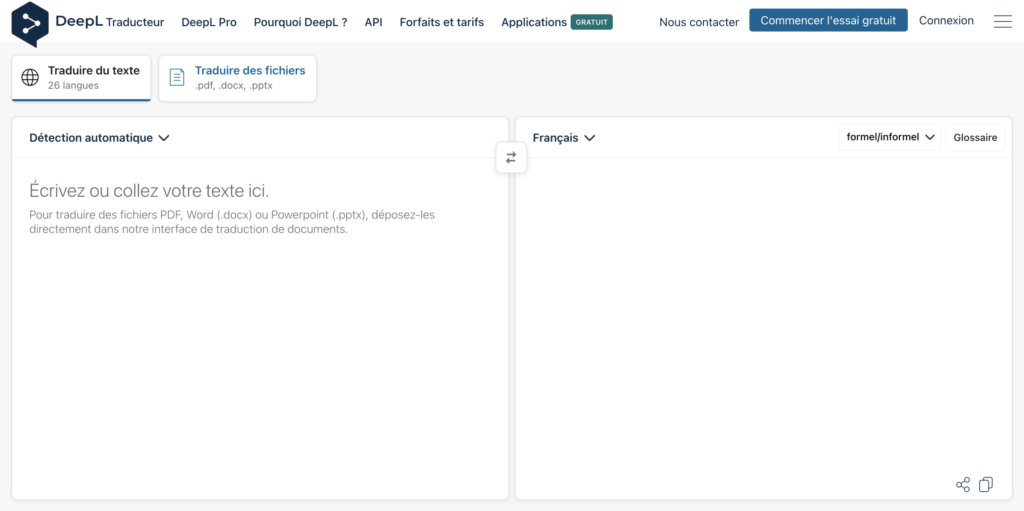 When you download the application (Mac or PC), the operation is easier: you select the text you want to translate and then type the shortcut ⌘C ⌘C on Mac or crtl C + C on a PC, which launches the application, copies your text and translates it instantly.
The data collected are as follows:
Date and time of access.

Browser type and version

Operating system

URL of the previously visited website

Volume of data transmitted

Requested area

Notification of successful data recovery

Search term when using a web browser

Abbreviated/anonymized IP

Full IP address (for a maximum of 14 days).
DeepL provides data security (including permanent storage of copy and paste texts) starting with the paid Starter package (€5.99 per month, or €71.88 per year).
In addition, their privacy policy states:
You can always use DeepL to translate their privacy policy into your native language 🙂
It is important to remember that the first level of security and confidentiality remains the conscious choice of the data we deposit on a site or via an application. We always have free will to make this choice and must do so with full knowledge of the facts (and consequences).
The website and desktop application offer a free service, subject to the security conditions outlined above.
Below are the rates (to date) of the different packages offered, as well as their details.
Deepl package rates as of 24.02.2022 (seetheir page for current rates).
*Popular combinations: English-French, Spanish-French, German-French. Other languages: Bulgarian, Chinese, Czech, Danish, Estonian, Finnish, Greek, Hungarian, Italian, Japanese, Latvian, Lithuanian, Dutch, Polish, Portuguese, Romanian, Russian, Slovak, Slovenian, Swedish.